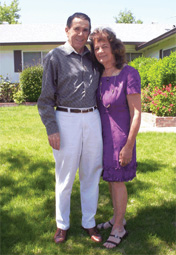 The author and his wife, Elizabeth, were the Superintendent/Principal and one of the founding teachers at Douglas County Christian Schools, Inc., Roseburg, Oregon, from 1982 to 1998, a period of sixteen years. During that time he taught Bible and mathematics at the junior-senior high level most years, and she taught Bible every year in her elementary classroom. The school used A Beka Book, curriculum for most subjects, especially in grades PK-6, and for some subjects through grade 12. We also used Bob Jones Press curriculum for a few high school subjects. Most of those years we used Positive Action For Christ (POSACT) Bible curriculum for grades 7-12, some of which your author taught. Our goal was always to provide our students with the very best Christian school educational experience possible --- and our achievement tests verified that we met our goal --- although at that time there were no standardized Bible achievement tests available. Our choices of staff and curriculum were two of our main foci in that quest to be the best. Sometime around 1996 or 1997 one of the junior high Bible teachers, Mrs. Leanne MacFarlane, asked the author a simple, yet very profound question: "Is there a Bible curriculum in which students simply read the Bible?" Out of that single memorable question and some lengthy consideration about what should be taught in Bible class at the junior-senior high and Christian college level Read Thru The Word has now become a reality. Beginning in the year 2000, the progress was somewhat slow and sporadic over the next few years due to various responsibilities and challenges. There were numerous times when the completion of the project was in doubt when the author wondered whether anyone would actually use the products once they were available. However, the personal discipline and anticipated spiritual benefit for both the author and possibly the thousands of students who would someday use Read Thru The Word was an underlying major motivation to complete the project. About the year 2006 two important factors entered the picture. A friend who had designed the cover for our first publication, Phonic Links, about 25 years earlier, and whom the author called about something he cannot now recall, told the author about www.lulu.com which is an on-demand, international self-publishing company through which books and other materials may be published at very low cost. The second factor was his retirement from Home Depot where he had worked for six years (2000-2006). With full time hours to concentrate upon the work as of 2008, and much encouragement from his wife, the project began to take definite shape. A production time line was established and the author gave his full attention to achieving the goal.
As of August, 2012, Read Thru The Word Bible Curriculum is complete and ready to deliver within 7-10 days of receipt of your order. Read Thru The Word is designed to be used as . . .
junior high Bible curriculum
high school Bible curriculum
home school Bible curriculum, and
college level Bible curriculum.